Cecile Landgrebe
Splendid Contributor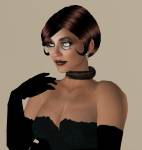 Joined: 07 Feb 2008
Posts: 156

Posted: Wed Mar 26, 2008 4:47 pm

Post subject: Actresses

---

Juniper sat in the window and stared at the snowflakes slowly falling down from the sky, her mind pleasantly vacant. Juniper was an active girl but her sense of self preservation had found the 'off' switch in her brain a long time ago. This morning she was content just watching the flakes fall and melt when they touched the window. Harriet sat on her bed leafing through a magazine. "Juniper?"
Harriet's voice did not register in Juniper's switched-off brain. The blonde on the bed looked up and raised her voice a little. "Juniper!"
"Hmmm?"
"What is so interesting outside?"
"No'in'."
"In that case come and have a look."
"Wha?"
"Come and have a look at this gorgeous actress. She is the star in that new kinnie, Sunset in Silverluce."
The switch flipped and Juniper jumped onto the bed.
"Lemme see!"
Juniper practically grabbed the magazine out of Harriets hands and stared at the picture of the actress.
"Oh! She *is* gorgeous."
"Isn't she? What I wouldn't do to be in a kinnie like her! Wouldn't it be dreamy?"
"You'd have to become an acress, Harriet. I decided to become an actress long ago. I will be ever so famous. Mother was an actress you know. I suppose that is where I got my talent. You *will* come and see all my kinnies won't you? I'd be so disappointed if you didn't."
Harriet sat up straight and stared at Juniper.
"Your mother was an actress?"
"Oh yes, but she didn't do cinema. She preferred the stage. She starred in every play that was performed in Milchford and all the brunettes were in love with her. I am so glad she picked maman out of all those brunettes, even though she is rather strict and does not approve of my acting plans. She says it is not an appropriate carreer for a young blonde of my standing. I don't really understand, what can be lovelier than being famous and glamorous and loved by all? Besides, mother was an actress and she did not mind that. She married her after all. Mother thinks it is awfully funny. She teaches me all kinds of songs but I am not allowed to sing them for maman. Shall I sing you a song? I'll sing you a song. Listen.

The dipsy doodle is the thing to beware
The dipsy doodle will get in your hair
And if it gets you, it couldn't be worse
The things you say will come out in reverse
Like "You love I and me love you!"
That's the way the dipsy doodle works.
You can't eat, you can't sleep. You go crazy.
You're just a victim of the dipsy doodle
And it's not your mind that's hazy
It's your heart that's at fault - not your noodle.
You better listen and try to be good
And try to do all the things that you should
The dipsy doodle will get you some day
And when it gets you the things you will say
Like the moon jumped over the cow - hey diddle!
That's the way the dipsy doodle works."

Harriet giggled.
"What a funny song! What is the dipsy doodle?"
"Oh, it is a very serious disease. Mother says maman caught it when they met and never quite recovered. That is probably why maman doesn't like me singing this song. I never sing it when she is around. I don't want to remind her of her illness. Mother says it is hereditary and I will get it too some day. She says it makes brunettes silly but that blondes are already silly most of the time so it won't make much of a difference. Especially not with me. Harriet do you think I'd be a good actress?"

Without waiting for an answer Juniper hopped off the bed and sat down in front of the mirror. She sighed. "I shall really have to do something about this hair if I ever want to become famous. Personality is not everything, you know." She pouted her lips. "And lipstick….."