Mengxia Yu
Contributy supermaiden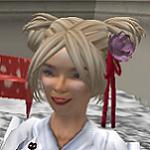 Joined: 07 Feb 2008
Posts: 435
Location: Arkadya
Posted: Thu Mar 13, 2008 4:20 am

Post subject: Safe Virtualia URLs

---

We have been planning for some time now to make a list of safe places in Virtualia for a maid to go exploring. While I have access to Virtualia, I have

finally

written my suggestions down!





Places to explore



Blumfield 29, 177, 26 - The Embassy of the Feminine Empire of Aristasia
Our very own Embassy! Inside you can drink a cup of tea at the bar, pray in the Chapel, buy the frocks made by Fraulein Landgrebe and Miss Poppy, or just dance!

Alarbus 182, 112, 25 - Ya Zhou Estate
A Chinese city. There is a camping system here that is not too bad, as you continue earning money as long as you stay inside the sim. There are lots of things to do--a teahouse, fireworks, shops, and the Great Wall of China. (Stay away from the grounds at the east side of the Wall--I have never seen anyone there, but there are poseballs labelled with inappropriate things.) You will encounter a number of Tellurians, but they will likely leave you alone and are mainly grouped around the camping vase.

Sonima 130, 74, 37 - Lillian Academy (Maria-sama ga Miteiru)
A re-creation of part of Lillian Academy from the animated series Maria-sama ga Miteiru. A uniform is required to enter. (They are provided free at the entrance.) Tellurians you encounter are likely to be femini who speak Japanese.

Chooqu 90, 190, 243 - Ye Ying Gong (Nightingale Palace)
Entrance to Ye Ying Gong (formerly the House of Shi Nv) is by invitation from the group's leader, Miss YeYing Hoisan. If you are interested in art or China, I suggest contacting Miss Hoisan. She is a very kind, intelligent maid who is somewhat familiar with Aristasia-in-Virtualia.

Antiquity Township 132, 123, 22 - Antiquity Township Victorian
A Victorian sim. There are occasionally performing events. I have never encountered anyone else here.

Isle of Mists 103, 109, 24 - Isle of Mists
A beautiful, somewhat fantasy-style island designed to be a peaceful, relaxing getaway in Virtualia. You could explore for hours! Griefing, rudeness, and other forms of bad behaviour are strictly prohibited. I have never encountered anyone else here.

Mengjing 230, 104, 25 - Mengjing Square
A Chinese city. There is not much to do here apart from looking at architecture, but there are danceballs in the main square as well as a bathhouse. Anyone you encounter will likely not bother you.

Obscuro Valkyrie 180, 231- 25 - Beijing China Forbidden City
A Chinese city. There is nothing to do here apart from admire the architecture. I have never encountered anyone else here.

Sterling Grove 62, 205, 21 - Village of Haven and Marzipan Teahouse
A Victorian sim. There is a ballroom, a train to ride, shops, and a small lake. Haven personell are quite friendly and polite, even the masculi. Visitors will likely leave you alone.

yamagata 90, 209, 25 - Yamagata, Japan
A re-creation of Meiji-era Yamagata. The main attractions are the hot spring and scenery. Residents speak Japanese as their first language and will likely leave you alone--those I have spoken to have been quite friendly. You may encounter a few samurai having a gravity-defying duel, but they will not bother you.

Gualala 77, 220, 23 - Moon Called Tribe Lands
A re-creation of a Native Culverian village. It is quite small, but there are lots of fun things to look at (especially if you like animals) and a small shop. I have never encountered anyone else here.





Things to do



Ribush 26, 254, 43 - Amaterasu Omikami Grand Shinto Shrine
A re-creation of a Shinto shrine, including appropriate poseballs. The scenery is very tranquil. I have never seen anyone else here.

yamagata 250, 20, 27 - Yamagata Onsen
A Japanese-style hot spring; this place seems to be fairly easy on the ordinator. It is divided by schizomorphic gender; femini enter through the red curtain marked 女. The Tellurians seem to respect this separation. I rarely encounter anyone else.

Osborne 166, 135, 61 - Wunderbar Ballroom
A nice ballroom that Aristasians have often frequented. Formal dress is required. Other residents generally keep to themselves.

Oyster 7, 212, 25 - Oyster Bay aquarium
A cute little aquarium. After walking through the hallway to look at the fish, you can teleport into the water and run around with the fish! I have never encountered anyone else here.





Shops



Isla Violeta 152, 170, 26 - Cherry Tokyo's Kimonos
Kimono, cheongsam, sari, hanbok--an assortment of Asian-style clothing and accessories.

SHIKOKU 157, 203, 21 - Flower & Willow - Traditional Japanese Clothing
All kimono and kimono accessories--the most accurate shop we have found. Discovered by Miss Elytis.

Ivalde 106, 202, 34 - Ivalde
Frocks from every country, Arcadian to Quirrie! Two Lucky Chairs give away free frocks if you get the right letter.

Loepa 52, 190, 53 - International House of Style
Clothes from across Telluria--Asian, Middle-Eastern, Native Culverian, you name it!

LicoLico 192, 92, 21 - ::LicoLico::
Frilly frocks for that new Lolita style that has swept up all the teenies!