Chancandre Aquitaine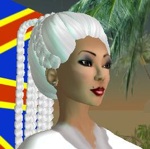 Joined: 18 Feb 2008
Posts: 63
Location: Nevrayapurh, Novarya
Posted: Fri May 01, 2009 11:33 am

Post subject: Happy Exaltation

---

Today is the High Feast of the Exaltation of the Queen of Heaven.

We shall be holding Divine Service at the Embassy Chapel tomorrow at noon PDT

Please read more about this lovely festival here.


_________________
In the East Sai Raya rose aloft
And rode across the skies,
And the rays that blest the golden West
Bade great Novarya arise.