MissJulianna
Splendid Contributor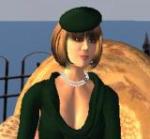 Joined: 31 Jul 2008
Posts: 162
Location: Quirinelle and Culveria
Posted: Fri Apr 10, 2009 3:49 pm

Post subject: A shopping trip anyone?

---

I am so excited for the Embassy ball tommorow!

Would anyone like to meet later this afternoon for a shopping expedition? (Yes, I am sadly lacking bunny ears.)

If so, I will be in the Emby at 12 pm Virtualia time.

In amity,
Miss Juliesse
_________________
The bonds of true sisterhood will endure.