Chancandre Aquitaine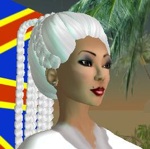 Joined: 18 Feb 2008
Posts: 63
Location: Nevrayapurh, Novarya
Posted: Tue Oct 28, 2008 1:48 pm

Post subject: Resignation of the Headmistress

---

It is my unhappy duty to announce that owing to personal circumstances, Fršulein Cecile Landgrebe has tendered her resignation as Headmistress of Sai ThamŽ College.

The College is currently guided by a regular meeting of its senior members and associates, and the offices of Praefecta Morum and Praefecta Studiorum (Prefect of Morals and Prefect of Studies) will continue to administer the daily functioning of the College.

Fršulein Landgrebe, our founding Headmistress, will be sadly missed. The first governing meeting passed a vote of appreciation for her work and a statement that it is felt that she is the right maid to head the College. For this reason no new Headmistress has been appointed and the post remains open in the hope that Fršulein Landgrebe may one day be in a position to resume her function.

The Fršulein continues to be the Head of the White Rose Family.
_________________
In the East Sai Raya rose aloft
And rode across the skies,
And the rays that blest the golden West
Bade great Novarya arise.