Sushuri Madonna
Administratrix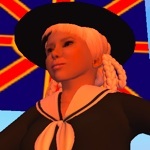 Joined: 07 Feb 2008
Posts: 335
Location: In a strange and scary place on a long journey homeward.
Posted: Mon May 25, 2009 11:30 am

Post subject: Life through a pink parasol

---

It has been a while since we disported ourselves on our tropical beach. We seem to have been urbanizing at the Embie a lot lately.

Yesterday, howsoever, we had a delightful beach party and did a little swimming between the islands. We also had some lovely new Estrenne parasols, acquired on a recent shopping trip (thanks for the tip, Miss Juliesse).

Virchers can occasionally give rise to strange visual effects - just like Fizzers really. And yesterday I had one that I adored so much I had to capture it for you. Unlike Fizzers, strange physical effects can be photographed:



As you see, Miss Poppy and honored Fršulein are seen through a pink parasol (you can see honored Fršulein's signature monocle), sheltered by a gray one, and somehow their silhouettes have taken on the coloring of the pink parasol, creating what strikes me as a very charming effect.

And what about the closed eyelashes near the bottom of the picture? That is truly anybody's guess!