Cecile Landgrebe
Splendid Contributor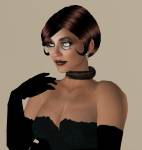 Joined: 07 Feb 2008
Posts: 156

Posted: Sat Aug 16, 2008 6:05 pm

Post subject: Lies

---

"Now, sweetie, I think it's time for you to rest a little."

"Yes, Miss May."

"I'll just take this tray back to the kitchen. You can put that extra pillow on the chair. Yes, that's it. I'll be back in a few minutes."

"Yes, Miss May."

As soon as Beatrice heard Miss May's footsteps turn the corner to the stairs she slipped out of bed and put on her uniform. She had trouble getting into her stockings, her hands shook with anger.



She lied to me.



She couldn't find a brush or any ribbons so she left her hair loose. It didn't really matter anyway.



She lied to me.



Beatrice rushed down the hallway past her own room in the direction of the library. She stopped in front of Lady Camille's door. Beatrice entered without knocking. She found Lady Camille in her usual position, reclining on the chaise longue, cigarette in hand. Beatrice's sudden entrance startled her. But the sudden look of shock quickly changed to worry.

"Darling! Oh darling! Are you all right? You scared us so." She stood up and walked towards Beatrice.

Beatrice had thought of so many things to say but all she could utter now was "You lied to me."

"What? What are you talking about? Doll face, won't you sit down?"

Lady Camille touched Beatrice's shoulder but the girls shook her hand away.

"No! I don't want to sit down. You lied to me! Why did you lie to me?"

"Stop being such a refractory child. Sit down and tell me what's wrong."

"You told me it was just a dream! You made me think I was insane! And all along you could see them too. Miss May told me everything. About how Camille left Colette, about how you behaved so badly that Mistress Baines had to go and fetch you from the city. About you being a drunk and a lyar!"

Lady Camille slapped Beatrice in her face. "Stop it! Stop it at once!" She looked at her hand in shock and took a few paces back.

Beatrice sank down on her knees. "Why? Why did you lie to me? I thought you were my friend!" Beatrice lost her fighting force and started crying. "I thought you were my friend."

Lady Camille paced the room. "Oh no, no, no. Stop crying. Stop crying this instant. Brunettes look ugly when they cry." She walked over to where Beatrice sat on the floor. "Beatrice, stop crying, do you hear me?" She picked the girl up by her shoulders and shook her. "Stop it! Stop being such a baby!"

"Why did you lie to me?"

Lady Camille put Beatrice down in the armchair.

"You want to know why. Didn't Miss May tell you? I thought she told you everything. I lied because that is what I do. I am Camille. From the day I was born I was destined to be a drunk and a liar. I'm bad, Beatrice. You know why I am here, kept in this cage. Miss May told you all about it and now I am telling you: I'm bad."

"I don't believe you."

"Ha! You don't believe me? You come stomping in here without knocking and start yelling at me! Throwing in my face that I'm a liar! You know I am. I'm incorrigible! Mistress Baines can cane me as much as she wants, it won't do any good. Anyway, it will be over soon. It's my destiny." Lady Camille turned away from Beatrice and walked over to the window arms crossed.

"All you have to do is make right what was done wrong."

Lady Camille chuckled. "Get out, Beatrice."

"I don't believe you are bad. You can make it right."

Tears welled up in Lady Camille's eyes.

"GET OUT!"