Cecile Landgrebe
Splendid Contributor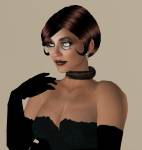 Joined: 07 Feb 2008
Posts: 156

Posted: Thu Aug 14, 2008 11:25 pm

Post subject: Camille and Colette

---

Beatrice opened her eyes. She was in a room she didn't recognise. By the window she saw the figure of Miss May.

"Ah! You're awake I see."

"Miss May. Where am I?"

"You're in a room in the east wing. Not far from your own room, but far enough. How are you feeling?"

Beatrice considered this for a moment. "I believe I am quite well."

"Well, that doesn't surprise me. You slept around the clock. I imagine you feel quite rested."

Then Beatrice remembered the play. "Oh no. I ruined the play. Juniper is going to kill me!"

"Don't you worry your pretty little head about that missy. You toppled over right at the end. You only missed a line or two."

Beatrice moaned. "Juniper is going to kill me."

"Hm, that sprightly little blonde seemed right satisfied to me. But what do I know about art?"

Miss May put an extra pillow in Beatrice's back so she could sit up comfortably. "Stay right where you are. I'll go and make you something to eat."

"Yes, Miss May."

"Good girl."

Beatrice looked out of the window. It was still light. She wondered what time it was. Then the image of the white lady came to mind. She sighed.

I'm going mad.



No, wait. Lady Camille saw her too. I could see that she saw her. It was the lady from the library. She was trying to tell me something.

Lady Camille saw her too. I'm not mad.

Beatrice decided to go and see Lady Camille as soon as she could. She must believe me now. She can't tell me Miss May has been telling me too many ghost stories.

Miss May!

At that moment Miss May came in with a big tray carrying a pot of rose tea, a pile of pancakes and a couple of slices of cake. She placed it on Beatrice's lap.

"Here we go. Eat up. You must be starving."

Beatrice looked at all the sweetness in front of her and felt a wave of nausea come over her.

"Miss May, I saw a ghost."

"You did, did you?"

"Yes, I did. Lady Camille told me you could tell me more about ghosts."

"Lady Camille! Didn't I tell you girls to stay away from her? Oh, no…I think I said that to a group of blondes. You weren't there. But now you know. Stay away from her?"

"Why?"

"Why? Because she's bad news is why. And it's getting worse. If you see them ghosts running about again it's bad. Just stay away."

"You have seen the ghosts?"

"No, I most certainly haven't. They don't show themselves to Mays or Baineses they don't even show themselves to most of the Endelines. It's usually outsiders like yourself."

"What does Lady Camille have to do with the ghosts?"

"You haven't touched your food yet."

"I'm sorry Miss May, I'm just not very hungry."

"Nonsense, of course you are. Here.." Miss May poured Beatrice a cup of tea.

She sat down on the chair beside Beatrice's bed.

"Now, how about you eat and I'll tell you about Camille and Colette."

"Camille and Colette?"

"The ghosts."

Beatrice picked up her fork and knife. "Yes please, Miss May."

"Well sweetie, you know how that in these old families girls often marry who their mothers tell them to marry." Beatrice nodded. "Well, that is what happened with Camille."

"Lady Camille?"

"Yes, well no. Not this lady Camille, her ancestor. She was also called Camille. She lived here a long time ago. She was meant to marry Colette of Ellengard. So when Colette was a young woman she was sent over to come and live at Endeline Towers. These two girls were quite something I heard. Got in all sorts of scrapes together. But what was most important is that they loved each other. Then one day Camille was sent to court. Brunettes that come of age are sent to court to be trained. Must be the same way in Arcadia."

Beatrice nodded again and took a bite of her pancake.

"You can imagine that little Colette was not too happy to see Camille go. Well, what happened then was the saddest thing in the world. It was spring and all the flowers that had come up died. It was a May who was gardener here then, Betty May. She didn't know what to do. The soil was not dry so there was no need to water and the soil wasn't too wet either. She thought it was Colette. The girl walked in the garden and looked so sad. She figured it was the girls sentiments that made the flowers die. And it really was.

"Camille stayed at court for three years and during those years Colette fell ill. They though she was not going to live. And all those three years not a thing would grow near Endeline Towers. Betty May left after a few months. She did not believe anything would ever grow in that garden again. But then Camille came back and Colette felt better and the garden came back to life.

"Lady Endeline begged Betty May to come back and tend to the garden again. Betty May had married a girl from the village and had a little daughter. That was my great great great grandmother's mother. She took the whole family to Endeline Towers and that's how the Mays got stuck here. The Mays belong at Endeline Towers."

Miss May poured out another cup of rose tea for Beatrice.

"You see, Colette was a pure sort of maid. Blondes are soft and gentle and sweet and Colette was too but she was special somehow. When she was ill and sad she flowers were too. But then Camille came back and Colette felt better again and so did the flowers.

"Lady Endeline organised a ball to welcome her daughter back. Everyone thought Colette was all well and healthy again. A bit frail but nothing serious. So Camille and Colette danced all night and they were admired for their beauty and spirit. But then Colette fainted. She was brought to her room and the doctor was called. I haven't much of an opinion of doctors. Don't like them, never will. They only bring bad news and so did this one. She could not help Colette. So then they brought in a priestess. The priestess saw what was wrong with Colette. You see, those two girls were one. They were meant to be together. And then one half was placed elsewhere and the weaker half started to die. The spirits of the garden had felt it. You see, sweetie, when you break a saucer in two you cannot make it whole again. You can hold the two pieces together and it may look whole but it is still broken. If you let go of one side it will fall and shatter. Colette's side was falling.

"She felt quite all right for some time after that. That gave the Endelines and especially Camille hope Colette might get better again. But after a while it became apparent that she was not getting better at all but slowly became worse. Now you are still a young brunette so you may not know what it means for a strong grown up brunette to see her love slipping away. But I can tell you that it made poor Camille crazy.

"Then one day a letter came from court. A request from the queen for Camille to escort her second daughter to the court of Kadoria. Camille promised Colette that she would be back before winter, and left.

"Now that may seem mean to you, leaving the girl you love behind when she is ill. But I think she couldn't stand watching Colette die. Don't you think that would be the hardest thing in the world? I think she ran away. So then winter came but Camille did not come home. Colette walked to the window every morning hoping to see Camille driving up the road. But she didn't come. That poor girl felt worse and worse and one day she could not come out of bed anymore to go to the window. Betty May gave up on the garden and took up driving. At least the Endelines would always need a chauffeuse.

"No one knew what was keeping Camille away but one night Camille dreamed about Colette and saw how ill she was. She suddenly realised how long she had been gone. She asked the princess permission to leave and came home.

"When she arrived home there was no one to welcome her back. No maids came rushing out the door to take her luggage, her mother didn't come to greet her. Camille dragged her suitcases in herself and walked up the stairs. Everyone was huddled around Colette's door. This is the sad part, little one: Colette had died not a minute before Camille had arrived home. It was a sad sight, my dear. Camille pushed everyone aside and fell down on her knees beside Colette's body. It must have been still warm, but the girl's spirit was gone. Camille stayed there for three days and three nights without eating, drinking or speaking. Then she took her unopened suitcases and left.

"She ran off to the city where she drank her feelings of guilt and sorrow away. And stayed up at all hours in those dreadful bars they have down there. It didn't take long for rumour to reach Lady Endeline and she sent Mistress Baines to fetch her. The Baineses have been with the family even longer than the Mays and they are all the same. Just imagine Mistress Baines finding you hanging around a bar in the middle of the night drinking yourself into a stupor."

Beatrice shivered at the thought.

"Yes, you get the picture. Have some cake, sweetie.

"So Mistress Baines got Camille back home and tried to sort her out. But Camille didn't want to live anymore. Her body wouldn't hold her up anymore, her mind didn't want to think anymore. The last thing she did was curse herself and her family. No Endeline brunette would find rest until what was done wrong was set right. Then she simply closed her eyes and left.

"Ever since then those Endeline brunettes have been nothing but trouble. Every first born brunette was named Camille and every generation hoped this one would set things straight. But no one really knows how to do that. And those Camilles have been nothing but trouble. I remember our own Camille's aunt. Ran off with some Quirrie motorcycle gang never to be seen again. This Camille is much like the first one. Hanging out in the city with the wrong sort of people, drinking spirits in the wrong sort of places and caring about nothing but herself. Mistress Baines brought that girl back hoping to whip some sense into her. But I don't believe it's doing much good.

"So that is why I want you to stay away from Lady Camille. She has a bad character and a great talent for not only getting herself in trouble but others too."

"But why do these ghosts show themselves now? You said it meant things were getting worse."

"Yes, that is usually how it goes. Guests report seeing ghosts and not long after Camille, any Camille, does something shockingly stupid. Running away mostly. It's what the Endeline Camilles do, they run away and get themselves into trouble."

Beatrice felt anger rise up from her stomach. "She lied to me."

Miss May shrugged. "I'm sure she did, sweetie."