Cecile Landgrebe
Splendid Contributor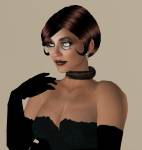 Joined: 07 Feb 2008
Posts: 156

Posted: Thu Aug 14, 2008 10:36 am

Post subject: Remember me...

---

This was it. This is what they...Juniper...had worked so hard for the past few weeks. Beatrice, dressed in a rather uncomfortable bunny suit, had taken her position next to Diana. She decided not to complain. After all Diana was much worse off in her tree suit. Especially since she had to keep her arms up. Beatrice scratched her nose. Last chance before the curtains would go up.

Lady Endeline had agreed to come and see the girls perform. She hadn't been at Endeline Towers very often since Avendale had established its temporary school there. Beatrice suspected Lady Endeline didn't care for children very much, or at least disliked having her rest disturbed. But she could only guess since she had never seen the lady before.

Juniper hopped on stage to give them all a little speech. Beatrice was not paying much attention. She picked up a few words. "So proud....we will dazzle them...great actresses...Miss Maitland and Lady Endeline...Break a leg!"

Juniper bounded off the stage again and a few moments later the curtains opened. Harriet and Mengxia-chei walked on stage. Gosh, how pretty Harriet looked. Her long hair loose, hanging past her waist. A little crown had been placed on her head.

Mengxia-chei spoke:


Shake the cloud from off your brow,

Fate your wishes does allow;

Empire growing,

Pleasures flowing,

Fortune smiles and so should you.


This is where the tree and the bunny came in:


Banish sorrow, banish care,

Grief should ne'er approach the fair.


Harriet continued:




Ah! Belinda, I am prest...




Beatrice looked at the audience. She saw Miss Maitland in the front row, looking stern as always. Miss Maitland, too, visited Endeline Towers only occasionally. She was very busy dealing with repairs to Avendale and such things of course, and Beatrice didn't mind that one bit. She was a good girl and tried to stay out of trouble, but trying was not always enough and she wanted to avoid having to answer to the formidable Miss Maitland.

Next to Miss Maitland was an elderly blonde Beatrice did not recognise. That must be Lady Endeline. She looked nothing at all like Beatrice had imagined. She had imagined a tall, stern lady with sharp features, but Lady Endeline looked like the sweetest lady imaginable. Her hair was coiffed in soft white curls around her head. She had a soft round face with a tiny nose and bright, bright blue eyes that looked amusedly at the scene before her. Her soft silk dress was the same colour as her eyes. Beatrice admired her instantly.



"Our Carthage to secure and Troy revive."

Mengxia-chei squeeked.



"When monarchs unite, how happy their state, They triumph at once o'er their foes and their fate."

Diana and she had practiced their chorus lines so often they could dream them.

Suddenly Beatriceís gaze caught Lady Camille's. The elegant brunette sat in the back of the improvised theatre, pointedly not holding a cigarette. Lady Camille nodded her head and grinned. Beatrice suddenly felt very hot in her bunny suit. Her face was colouring. Thank Dea for make-up. She hugged her huge, slightly unusually coloured papier-machť carrot.

The sudden bang that accompanied the entrance of the sorceress startled Beatrice. The bunny stood to attention.

Shin-cheri had perfected the sorceress. She was grand and scary at the same time. The explosion of baking powder did much to add to the grandeur of her entrance.


Wayward sisters, you that fright

The lonely traveller by night

Who, like dismal ravens crying,

Beat the windows of the dying,

Appear! Appear at my call, and share in the fame

Of a mischief shall make all Carthage flame.

Appear!


Beatrice noticed Miss Maitland and Lady Endeline brushing baking powder from their dresses. Shin-cheri had assured Juniper that nothing would reach the audience. Something must have gone wrong in her calculations. Shin-cheri did not seem to have noticed it. She stood strongly and as tall as her body would allow: an impressive and lightly powdered sorceress.

At the beginning of the last act Beatrice felt a headache coming on. She felt slightly nauseated. If only Juniper and Harriet could be quick about it. But she knew they wouldn't. They would try to get all the drama out of this act they could. It would be long with a lot of sighs and much hand-clasping.

Juniper fell on her knees before Harriet and took her hands.


What shall lost Aenea do?

How, Royal Fair, shall I impart

The God's decree, and tell you we must part?


Beatrice noticed Harriet had trouble not giggling. Her head started to spin. Focus Beatrice, she admonished herself. Only a short while now. From a distance she heard Harriet speak. Gosh, how well she played anger.


No, faithless lady, thy course pursue;

I'm now resolv'd as well as you.

No repentance shall reclaim

The injur'd Dido's slighted flame.

For 'tis enough, whate'er you now decree,

That you had once a thought of leaving me.


Beatrice dropped her carrot. She felt weak. From the back of the room she saw a bright light approaching the stage. Two lights...no one, just one. She couldn't see straight. In the back Lady Camille stood up from her seat. Ah, thought Beatrice, you see it too. Once the light had reached the stage Beatrice could see it was a lady. The pale blonde lady from the library. She giggled softly. No one else seemed to see the strange blonde, apart from Lady Camille. She lied to me. Beatrice's head throbbed.

Center stage Harriet sank down on her knees.

"Thy hand, Belinda, darkness shades me"

Mengxia-chei took her hand. The white lady kneeled beside Harriet and looked at her intently.


More I would, but Death invades me;

Death is now a welcome guest.


The white lady shook her head and moved closer to Harriet. She stroked the girlís long blonde hair. Harriet started to cry.

"When I am laid in earth..."

Tears fell down from her cheeks.

"When I am laid in earth, May my wrongs create, No trouble in thy breast"



Lady Camille now stood in the aisle. She looked at Beatrice.



"No trouble..."

Harriet sighed.

"No trouble..."

Mengxia-chei looked worried. "Harriet?" she whispered.




"Remember me, but ah! forget my fate."




The white lady looked up at Beatrice. She looked so sad. Her lips moved. She was trying to say something. "I can't hear." Beatrice said, swaying. "I can't hear." Beatrice saw Lady Camille rush to the stage. Then she fainted.