Cecile Landgrebe
Splendid Contributor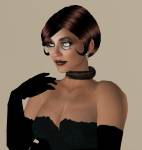 Joined: 07 Feb 2008
Posts: 156

Posted: Wed May 28, 2008 3:03 pm

Post subject: The Letter

---

Beatrice knocked softly on the door. She was a bit nervous. Lady Camille had sent her maid to fetch her, but she had no idea why. "Come in." Beatrice opened the door and creeped in as quietly as she could. Lady Camille was dressed in a delightful bright red frock and leaned into the wall looking out of the window. Smoke elegantly fumed up from the cigarette she was holding. She continued to look out of the window as Beatrice reverenced. "Rayati, Lady Camille." Silence. Lady Camille continued to stare out of the window. Suddenly she smiled and started humming a song. Beatrice stood at the door, not knowing what to do. "Do you keep birds, Miss Beatrice?" The sudden recognition of her presence startled Beatrice. "No, my lady." "Good" Lady Camille breathed in deeply and turned towards the girl. "Well, there you are. Where have you been all this time? I thought you'd come back and tell me about yourself. I've been dreadfully bored. Come here." Beatrice walked towards the window where Lady Camille stood. "Closer girl, I want to see your face." She took Beatrice's chin in her hand and studied the girl's face. She sighed. "Sixteen". Beatrice looked up at Lady Camille's face. It was not a particularly beautiful face. Her left eye was smaller than the right one and her lips were very thin. But Beatrice thought her beautiful. Lady Camille grinned. "Some day you'll have wrinkles too." "Oh no...I mean...I was just looking at...you are very beautiful." Lady Camille let go of Beatrice's chin and walked to her secretaire. "Will you do me a favour?" Lady Camille took out a letter. "Could you pop this one in the post for me? I am not feeling very well these days, so I can't go out myself." Beatrice took the letter. "Best not tell anyone about it. Letters are such...are such...private...things." Lady Camille had taken her spot at the window again, staring into the distance. Beatrice reverenced and walked towards the door. As she opened it Lady Camille suddenly seemed to remember where she was. "Miss Beatrice, you will come and visit me again, won't you?" The young brunette turned around and revereced. "Yes, Lady Camille. Rayati." "Rayati, Miss Beatrice."


Beatrice turned the corner and bumped into Juniper. "Rayati Beatrice! Where are you going? Ooh a letter! Who is it for?" Beatrice sighed, "Rayati Juniper." She looked at the letter. It was addressed to a Helen Drummond in Milchford. Juniper's eyes bulged. "HELEN DRUMMOND? You write to Helen Drummond?" Beatrice suddenly remembered she was not supposed to tell anyone about the letter. "Er, yes...now move along Juniper. I have things to do." "Helen Drummond! Do you know who she is?" "Yes, of course I do," Beatrice lied. Juniper jumped up and down. "She is THE blonde star of the moment! I have seen ALL her kinnies. How do you know her?" "Never you mind, Juniper Halifax." Beatrice continued to walk. "Oh DO tell, Beatrice!" "No, leave me alone." Beatrice started to run. As she turned into the brunette's corridor she stopped dead in her track. There was this sudden strange music...or rather a remembrance of music. Very faint but very clearly present too, although not exactly present either. "No running in the hallway Beatrice," a tingling voice said. "No, Sensera-chei." The blonde mistress smiled. "Don't do it again." "No, Sensera-chei. I'm sorry." Beatrice waited for the music to fade away before she continued towards the door of her room. She let herself drop onto her bed and sighed. She felt like barring the door and curling up with a book somewhere. Then she realised she was still holding Lady Camille's letter. "She writes to a star." Beatrice whispered.

Suddenly the door burst open. "Helen Drummond is your aunt?!!!" Beatrice groaned. "Harriet...leave me alone!"