Cecile Landgrebe
Splendid Contributor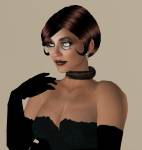 Joined: 07 Feb 2008
Posts: 156

Posted: Mon Jun 23, 2008 3:59 pm

Post subject: Definitely Time For Tea.

---

Juniper sighed. And sighed again. And again. She did not like silent study in the library. Beatrice sat across the table. Why did she not look up? Juniper wanted Beatrice to look up and be annoyed with her for sighing. But Beatrice continued reading that big old book on whatever it was. Geography or something. Juniper looked at her own book. The thinnest novel she had been able to find in this library. She could not believe anyone was allowed to write 64 pages about a pette changing into a bug without mentioning evil professors or vampires once. Juniper looked around the library. The girls all seemed so calm behind their books. Juniper felt like dancing. She softly hummed a waltz and turned back to her book. A bug…hmpf, so unromantic.

Beatrice's head shot up from her book. That tune… She looked around, everything serene, everything in its place, still daylight. It was Juniper. Juniper was humming that song. Beatrice looked at the blonde across the table. She was reading, head swaying from side to side and humming the waltz Beatrice had heard in her dream. Suddenly she could smell that heavy perfume again. She heard girls laughing. Beatrice jumped up. "No,no, no…it was a dream."

"Beatrice, are you all right?" Juniper's voice sounded distant. "Perhaps you should go and see Miss May."

From the corner of her eyes Beatrice saw a lady in a long gown running by. She put her hands in front of her eyes and sat down again. "It's not real, it's not real." Beatrice felt a hand on her shoulder. "Beatrice, tell me what's wrong." Juniper's voice was clear again. The scent was gone.

"I'm all right Juniper, thank you."

Beatrice quickly picked up her books and walked out of the library. She could feel the eyes of the other girls following her. She stopped at the third door on her left. Lady Camille's room. She knocked. No reply. She knocked again, then Lena opened.

"Rayati, Lena. Is Lady Camille not here?"

The maid shook her head. "She is with Mistress Baines, Miss."

"I see. Thank you Lena."

Lena looked at Beatrice with a worried look. "Miss, I'm sorry Miss, I know it's not my place. But perhaps it's best if.."

"Lena?"

"I'm sorry Miss, I have to go." The little maid curtseyed and quickly closed the door.

Beatrice had not recognised the voice calling. She wondered who it could be. She had never seen anyone else in Lady Camille's rooms. She wondered if it might be Lady Endeline. They had been staying at Endeline Towers for months, but she did not believe anyone had seen Lady Endeline yet. Rumour had it that she preferred to stay at her summer house in the country while children were staying in her home. Some said that there was no Lady Endeline.

Beatrice shivered. Maybe Juniper was right, she should go and see Miss May. She could use a cup of tea now. Beatrice looked around, the hallway seemed awfully empty. It was rather chilly too.

Yes, time for tea.



Beatrice was about to take the first step down the stairs when she heard something. The wind? No, it sounded like someone crying. She looked around. No one. The crying came from the blondes' hallway. It sounded serious. Beatrice walked towards the first door. Whose room was this? She didn't know. She never went into blonde territory. She knocked on the door. No reply. She held her ear to the door. There was definitely someone crying in there.

"Hello?"

Beatrice's breath was visible. The sounds in the room became more desperate. She pushed the handle down and looked around the door. The window was open, wind blew up the curtains. It was very cold. Beatrice could hear it clearly now. She stepped into the room.

"Hello?"

The wind pulled at her hair, loosening a few locks. She heard a moan coming from behind the big four poster bed. She walked around the bed. On the floor a tall slender brunette lay kneeling. Her back heaved as she cried.

"Lady Camille!" Beatrice dropped her books and quickly knelt beside her.

"She's gone," the brunette whispered.

"Who is gone? Lady Camille, are you all right?"

Beatrice reached to put her hand on the lady's shoulder when she looked up. The desperate face did not belong to Lady Camille. It was the lady Beatrice had seen dancing in the library. Her mouth formed the words 'she's gone' but Beatrice couldn't hear her anymore. Then she disappeared.

Beatrice found herself sitting in the dust on a moth eaten carpet. The room smelled damp and musty. She slowly stood up. She looked at the window. It was closed. The curtains hung down silent. As she touched the fabric it disintegrated. There were handprints in the dust on the widow sill. Other than that there was no sign that anyone had been here for ages. Beatrice picked up her books and wiped the dust from them. She did not think she had ever been so afraid in her life but her body was calm and her mind focussed. She held out her hand. Stable.

"So…ghosts," she said out loud. Her voice sounded strange in this room. She looked at the flecks of dust on her skirt and stockings.

Better change before I go to Miss May. She will not allow me into her kitchen looking like this. Yes, defintely time for tea.