MissJulianna
Splendid Contributor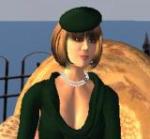 Joined: 31 Jul 2008
Posts: 162
Location: Quirinelle and Culveria
Posted: Sun Jun 21, 2009 6:24 pm

Post subject: My Exit Piece for Aristasia 101

---

Yu-chei's earlier post on the Chatterbox about her mother's criticisms of her manner of dressing made me want to go back and reread the exit piece I wrote for Aristasia 101. I plan to expand this and would like any and all feedback from anyone who wishes to do so.

So, therefore, in its entirety, is the piece:

[b]The Function of Fashion in Aristasian Society[/b]

One of the most obvious ways in which the Aristasian emphasis on propriety and decorum manifests itself is through the garments a maid chooses to wear. In her mode of dress, an Aristasian maid does not seek to recreate the past, but rather to draw upon the very best elements of pre-Eclipse culture in her rejection of the Pit. Fashion also plays an important part of a maid's expression of individual personae. However, most importantly, there is a spiritual aspect to Aristasian fashion, whether it be Arcadian, Trentish, Vintesse, Kadorian, or Quirinelle. Ultimately, Aristasian fashion transcends the purely decorative and aesthetic and serves as an outward manifestation of a maid's place in the Golden Chain.

Before discussing the function of fashion in Aristasian society, it may be useful to analyze certain aspects of Pit culture, for in the void created by Aristasian secession from the Pit comes the creation of our new reality and its customs of language, manners, discipline, and dress. During the cultural and spiritual collapse of the early 1960s, known as the Eclipse, civilization proper ended, and the Pit took its place. As Miss Regina Snow calls it in her introduction to [i]Children of the Void,[/i] the Pit is "a dark and twisted age." "Morally and culturally," explains Miss Snow, "Civilization had ended; just as completely as it would have physically ended if it had been obliterated by atomic bombs." In the Pit, all normal order experiences a complete reversal. That which is ugly is regarded as beautiful, cacophony takes the place of harmony, and correct speech is replaced by an unintelligible drawl. It all becomes so prevalent that in the Pit, this disorder and chaos have become accepted as the norm.

As Miss Alice Lucy Trent explains in [i]The Feminine Universe,[/i] in the traditional view of the cosmos, "humanity and the cosmos are linked, and the maid herself is a little cosmos. . . we are of the same Essence and the same substance." Conversely, in the modern view of the cosmos the maid is viewed quite differently. She is an "insignificant speck" in the vast order. "When a maid loses her significance in the cosmos and the cosmos loses its significance about her," asserts Miss Trent, "Many other things are also lost." Her view of the universe is aimless, accidental, and chaotic, and her clothes are those of "self-mockery and demoralization."

Consider the garments one would see on a typical Pit-maiden. In a milieu that would customarily call for utmost respect and reverence, it is not unusual to see a maid in the Pit wearing denim pants to a house of worship, along with beach sandals and a skimpy blouse. In the name of fashion, Pit-maids spend hundreds of dollars on denim trousers that are ripped and treated to look pre-worn. They rim their eyes with dark kohl to look like sleepless zombies. They wear work boots. Their skirts are short; their necklines low. This manner of dress clearly shows how far a Pit-maid's regard of herself has fallen. If she held the traditional view of being one with the divine and having a microcosm of the divine residing in her, she clearly would eschew such choices. The literal fabric of her dress is an outward manifestion of the "social fabric of the Pit [becoming] unwoven," to use Miss Trent's observation.

In seceding from the Void, Aristasians choose to fill the space with the very best of the pre-Eclipse world. From music to manners, from dress to speech, all aspects of Aristasian culture strive to return the maid as closely as possible to her divine origins. Regardless of the province from which a maid hails, Aristasian fashion shares the same attention to detail, quality, neatness, order, and propriety. An Aristasian is, above all things, dignified, as befitting her place in the cosmos and its place in her. Consider this description of Miss Sinta in [i]Children of the Void:[/i] "Sinta was wearing a square-shouldered Kadorian day-dress, with a lovely skirt that fell in elegant folds from the waist. She had dark real-Quirrie nylons and wide orange-red lips that ignored her natural lip-line in true Kadorian style." We see here that Aristasians do no refrain from using cosmetics, but use them in a way that enhances rather obliterates her features. Annalinde wears a "neat, plated pastel-tartan skirt. . . [with] a pleasingly pale pink petticoat." Even the hostess at the Constant Nymph, perched on the edge of a chair in her short Infra skirt, does not show the top of her stockings.

Above all, Aristasian fashion is highly feminine, and this aesthetic transcends the purely decorative elements of style and taste. While the Eclipse destroyed and inverted femininity by embracing a masculinised version of the Cosmos, the traditional view embraced by Aristasians seeks to restore femininity to its original, primordial form. "In all myth throughout the world," explains Miss Trent, "The original creator is feminine. It is only with the coming of a masculine-dominated (patriarchal) social system that She is replaced by a Male god." If the modern view maintains that femininity is little more than social conditioning, Aristasians know that it is far more: From the traditional point of view feminine characteristics are of the highest order, because they are a reflection of Dea herself. Therefore, the Aristasian insistence on feminine dress is far more than an adherence to a particular trend. In our crinolines and stockings, we stand bravely before the world and claim our space as reflections of the Divine.
_________________
The bonds of true sisterhood will endure.