Chancandre Aquitaine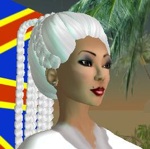 Joined: 18 Feb 2008
Posts: 63
Location: Nevrayapurh, Novarya
Posted: Sat Apr 25, 2009 10:15 am

Post subject: Open house

---

Darlings - don't forget it is open house at the College today at 12 noon PDT.

If you've never been before, just meet at the Embassy a short time in advance.

I shall be giving a short lecture on language and symbolism. We have often been asked about the Aristasian (Raihiralan) language, so I shall be talking about some topics concerning that.

I hope to see you there.

Rayati.
_________________
In the East Sai Raya rose aloft
And rode across the skies,
And the rays that blest the golden West
Bade great Novarya arise.