Sushuri Madonna
Administratrix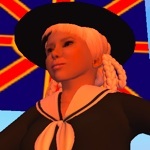 Joined: 07 Feb 2008
Posts: 335
Location: In a strange and scary place on a long journey homeward.
Posted: Wed Apr 08, 2009 10:56 pm

Post subject: Embassy Ball

---

We shall be having a ball at the Aristasian Embassy in Virtualia this Saturday at noon. The themes will be Spring, New Year and Eastre Pastel colors are favored and bunny-ears optional.

See y'all there!