Sushuri Madonna
Administratrix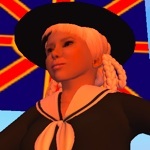 Joined: 07 Feb 2008
Posts: 335
Location: In a strange and scary place on a long journey homeward.
Posted: Thu Dec 11, 2008 10:55 pm

Post subject: College Arms

---

Here are the proposed Arms for Sai ThamŽ College, which will be formally opening shortly after Nativity.

It is a simple escutcheon in Sai ThamŽ's colors (blue and gold) emblazoned with the eight-spoked Wheel of ThamŽ (as opposed to the six-spoked Wheel of Werde) and a scroll (denoting scholarship) bearing the words "

Vincit Omnia Veritas"

- Truth conquers everything.

Your comments would be appreciated.


Violet Viola
Splendid Contributor




Joined: 10 Feb 2008
Posts: 153
Location: PurpleCastle, Arcadia
Posted: Fri Dec 12, 2008 10:46 pm

Post subject:

---

it is so pretty!
I'd use


Veritas Omnia Vincit


but it's Latin...
can we have Sanskrit? Because (if I remember well) Sanskrit is a holy language, while Latin is simply an ecclesiastical language (and belonging to a patriarchal religion), not a holy language.
Or we can use the high Aristasian?
Uhm, I said "we". I'd like to join, in fact! But I can't access Secondlife, only the forums here or "plain" elektrasites...
_________________


Violet Viola



Roses are red,
violets are blue....