Cecile Landgrebe
Splendid Contributor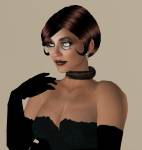 Joined: 07 Feb 2008
Posts: 156

Posted: Sat Aug 16, 2008 6:07 pm

Post subject: Helen Drummond

---

A car came racing through the gates. It swirled from left to right, running over a few rose bushes that adorned the way up to Endeline Towers. When it reached the house it turned right without losing any of its speed and drove up the lawn. With screeching brakes it came to a halt under Lady Camille's window. The doors opened. From the passenger's side a pale looking pette in a chauffeur's unifom got out and ran behind a tree.

"Darling! Am I not a fabulous driver? I got the hang of it rather quickly, don't you think?"

From the driver's side the glamorous form of a tall blonde emerged. Her hair was platinum and her lips painted bright red. A fur coat hung casually from her shoulders.

"Minnie, don't be such a sissy."

"I'm sorry Miss Drummond. It shan't happen again."

"Do you suppose they mind very much that I parked here on the lawn? I'm sure the gardener can fix those rose bushes. Don't you think, Minnie?"

The chauffeusse looked at the chaos her mistress had created. It was nothing out of the usual. She would have to talk to the housekeeper and see how much it was going to cost this time.

"I'm sure they can fix it, ma'am."

"Good!"

Two floors above a window opened.

"Helen!"

"Oh! Yoohoo! Camille! I've come to save you, darling! I drove here myself. Am I not heroic?"

"Helen! You have no idea how glad I am to see you."

The blonde brought her gloved hand to her hair and touched it lightly.

"Well of course you are, sweetie. But how ghastly you look. Such great words about country air being good for a pette. I never believed a word of it. Now, do come down, darling. I know it's still early morning, but I need a drink. I saw a quaint little establishment not far from here. They serve martinis there, surely."

Lady Camille looked at her clock. It was 3 pm. She smiled brightly.

"If they don't serve martinis there we'll drive until we find a place where they do."

The blonde turned and walked around the car. She almost fell over as her heel sagged into the lawn.

"Careful Helen!"

"Really darling, do come down. I've seen enough of the country for one day."

Lady Camille blew a kiss and closed the window.

"Oh Lady Camille. You are not really leaving, are you?"

"Yes, I am Lena. I'm sorry poppet, but there is nothing here for me."

"Please milady, don't go. You are needed here."

"It cannot be helped, Lena. This is who I am."

"But the story says…"

"I don't care what the story says. Let the next Camille solve the Endeline problems. I can't do it."

"Lady Camille…"

"Rayati Lena, you've been a doll."